Secret of the Blood was written by Wayne and Denny Mussatto. Secret of the Blood follows Lucian Wilde, through the Tattooed Forest and more to discover his true power and the source of it all. Lucian Wilde is an athletic and mysterious superhuman who seems to defy the odds at every flip of the coin yet also manage to inspire obsessive lovers ,friends and even a detective to follow him through his deep and dark world. 
Click here to enlarge top photo.

Lucian has his eyes set on Lisa in this novel and he manages to sweep her off of her feet in heart-pumping ways. Lucian has a knack for being in the right place at the right time.

This book is filled with vampire murder, mayhem, lust, poetry and religious references. It seems like in the Tattoo Forest that there are many mysterious verses spelled out into trees. This gives you a lot more time to contemplate the book than it takes to read it. I myself was featured as Angel Poet in "Dark Wishing Well," another of the author's books. In this book I have poetry at the Dark Wishing Well; "Enchanted Moon" and "Temple." The saga was just getting started in that book and I recommend picking up some of the other books which are fairly inexpensive, especially for kindle. My favorite is actually "Blood Magic Stir."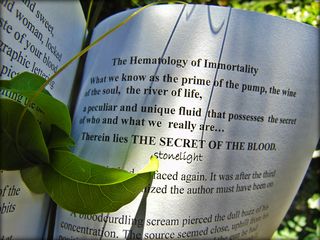 The underlying theme of these novels seems to be vampires. Vampires have a knack for driving people insane. Vampires are the number one fantasy of people seeking immortality and true love. The way that vampires are portrayed in this novel is fascinating, almost a modern day dimension jumping brotherhood going on here. It seems like an undertone is vampires disappearing into these other places were people do not seem to take much notice of them.

One particularly beautiful vision you will have is when reading the part about the train and the different train cars and there is one that mortals see and one that those with higher spiritual perceptions perceive. The imagery evoked during that chapter is my absolute favorite. Afterwards, the group stands atop a snowy mountain and I can't help but picture this powerful place.

The dark side of vampires is portrayed as well, unfortunately. There are gruesome murders and there are several people trying to track the clues and put the pieces together. Who is really the culprit in these gruesome acts of evil? Where are the clues leading us? The book will keep your adrenaline pumping as you race to figure out the clues before the mystical detectives can. I can't get enough of it and I want to read more!
If you would like more information or to purchase this book from AMAZON.COM simply click on its title:  Secret of the Blood: Death of Twilight
Article continues here:  http://forums.jazmaonline.com/topic.asp?TOPIC_ID=7693